Juniperus procumbens 'Nana' - Green Mound Juniper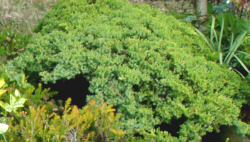 Juniperus procumbens 'Nana', known by many in the US as the Green Mound Juniper, is a personal favourite. Its neat green foliage and ground-hugging habit make it ideal for groundcover, yet it is the foliage arrangement and the way in which the new shoots grow that give this cultivar its strong appeal. I grow it on the edge of paving here in the UK, where it can best show off its superb characteristics.
The attraction of the foliage of the green mound juniper is such that it is widely used to make bonsai trees, particularly in the USA, where it has become the 'classic' bonsai juniper (see Juniper bonsai trees) - this despite that it will not grow into a tree left untrained and is in fact a low-growing, groundcover plant!
The Green Mound Juniper has foliage of an apple green colour, that is green with just a hint of silvery-blue. It will grow well in an open position away from big shrubs or trees and prefers well-drained soil. If your soil is clay or heavy dig two or three bucketfuls of fine gravel or pea shingle deeply into the square yard (square metre) into the centre of which you are going to plant your juniper. When planting also incorporate organic matter into the hole and mix with the soil. Grows four or five feet across in ten years.
Uses in the Garden
The green mound juniper looks particular good at the edge of paving or at the side of garden steps, where its thick shoots will hug the contours of the ground in a most effective way. For the same reason it looks good when the surrounding soil is mulched with gravel. Grow it with alpines or low-growing heathers so as not to mask its fine characteristics.
Similar Plants
At a garden centre in Essex on the east coast of England I recently purchased a juniper labelled " Juniperus procumbens 'Rivularis' " which appears, at least in the plant I have, to be similar to J. procumbens 'Nana' but with looser, more vigorous foliage. I can find no reference to this variety in the literature or online, so time will tell whether it is just a very well-fed and mis-named plant of 'Nana' or something different.
'Bonin Isles' is a cultivar of Juniperus procumbens said to be like 'Nana' but more blue in colour.
In the garden, and for the same kind of situation, Juniperus sabina 'Tamariscifolia' would do well, and has a similar growth rate, though more clearly defined shoots like long arrow heads sweeping down over the body of the plant. Other prostrate junipers that would serve a similar purpose though not forming much of a mound would be Juniperus conferta varieties such as 'Toshio Blue'.
Where to buy
Below are two examples of the Green Mound Juniper grown as bonsai that can be purchased online:
---
Skyrocket Juniper
Skyrocket is one of the most upright forms of grey-green Juniper.
Blue Star Juniper
The Blue Star Juniper is a fairly slow-growing silvery blue mound.
Blue Rug Juniper
The Blue Rug Juniper carpets the ground.
Where to buy juniper plants
Useful sources of juniper plants.
Juniper products
Find out the products that can be made from juniper.
The Green Mound Juniper is a beautiful plant, but What are Juniper trees?
---
Juniper Trees
Disclaimer | Link to Us | Contact Us
Text and Images Copyright ©
junipertrees.com and on behalf of individual copyright owners.
All Rights Reserved.
This Green Mound juniper page belongs to http://www.junipertrees.com/